Shed Moving
Our specialties include:
Storage Sheds, mini barns, backyard buildings
Gazebos
Playhouses and log cabins
Swing sets and playground equipment.
Servicing: Grafton, Elyria, Lorain, North Ridgeville, Avon, Avon Lake, Vermilion, Medina, Brunswick, Strongsville, Berea, Cleveland and surrounding areas.
If you need something moved in your yard, to another yard or another town, give us a call. We will be glad to give you a quote and time frame for moving your structure.
Amish Swings & Things is proud to announce that it has the capabilities for state of the art, Shed/Barn/Gazebo delivery and or moving!!!
(Press Play Button Below to Start Movie)
In determining if your barn/shed will fit on our trailer please view the picture below and use the procedures as a guide.
Measure the width of your building from outside to outside.
Divide that dimensionin half and place a mark on the front of the barn.
Measure from that mark both left and right and place a mark at 34 inches on center.
It is not necessary to have a center runner as shown in the picture but you must have runners both left and right of the center mark on the front of your barn.
If your runners do not match with our trailer we can install runners at an additional cost.
The Maxim building we can move is 20 feet long and 10 feet wide 10 feet high.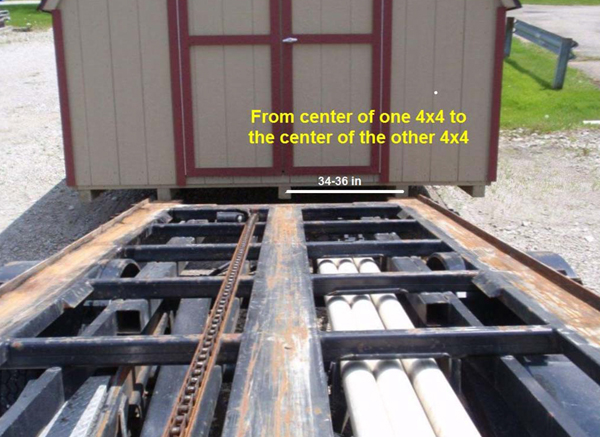 Additionally
We can also provide stone pad site preparation.
Call for pricing... 440-748-3660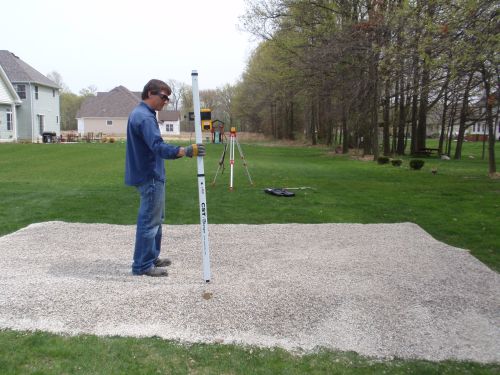 Shed Moving:
We can move up to a 10' Wide x 20' Long x 10' high shed.
Delivery Rates are based on Hourly Charge, STARTING from Amish Swings & Things to completion of move.
$225.00 minimum charge first hour.
$100.00 per hour after first hour.
Additional charges apply for delivery's beyond local area of 20 miles.
Must have exact outside measurements of width, length, and height.
Storage Sheds must be empty.
Must have direct access to shed with trailer.
Amish Swings & Things is NOT responsible for any lawn damage
Amish Swings & Things is NOT responsible for any property damage.
Important Considerations:
Add 3' to height of Storage Shed to clear all overhead obstacles.
Shed location must be pre-determined and pre-prepared.
Weather conditions may affect the schedule delivery date.
Wet yard conditions may leave ruts or tire marks in grass.
To get an idea of how your yard may be affected, take the heal of your shoe and kick the ground hard. If you go into the dirt or make a mark in the ground, then our vehicle will probably do about the same or slightly more damage.
If we feel the yard is not optimal for the move and need to delay for better conditions, and you choose to do the move anyway, and we get stuck in your yard you will be responsible for pulling the stuck vehicle out at your cost.